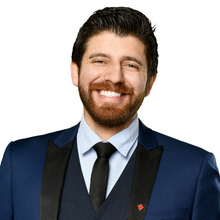 Tareq Hadhad
Founder and CEO, Peace by Chocolate

Tareq Hadhad is telling his story. He was a Syrian refugee and now living his new life in Nova Scotia. He is the founder and CEO of Peace by Chocolate, the recipient of the EY Entrepreneur of The Year 2021 for Atlantic, named one of the Top 25 Immigrants in The Maritimes and awarded RBC's top Immigrant Award and Entrepreneur of the Year in 2020. All of this has happened since Tareq's arrival to Canada in December 2015 as a newcomer.
In 2012 the Hadhad's factory that housed the family chocolate-making business were destroyed which forced them to seek safety. Passionate about peace and entrepreneurship, his family relaunched their business to recreate the chocolates they once exported across the Middle East.
In January 2020, Tareq received his official Canadian Citizenship which garnered international attention and has become one of the greatest accomplishments of his life.
Tareq has spoken at several events for corporate, government and not for profit organizations both in person and online. He has done over 500 interviews with different news teams across the globe. Tareq speaks on the compelling story of his family, the positive impact of Syrian newcomers and the spirit of entrepreneurship and giving back.